Airbnb is fine, and we assume a Travelodge does the job. But where is the fun in that? When it comes to vacation, there's nothing like splashing around on a five star hotel. That being said, there are splashes, and then there are splash. London, one of the hospitality capitals of the world, is brimming with hotels of unparalleled grandeur, service and amenities. They will also cost you the equivalent of a small deposit for a one night stay.
We've compiled a list of the most expensive accommodations money can buy, including rate per night, suite size and price per square meter to give an accurate impression of quality. Trust us, this is a list that will make the mention of "Premier Inn" odious forever.
10. The Connaught Apartment: £16,000, 285m² £56.14 per m²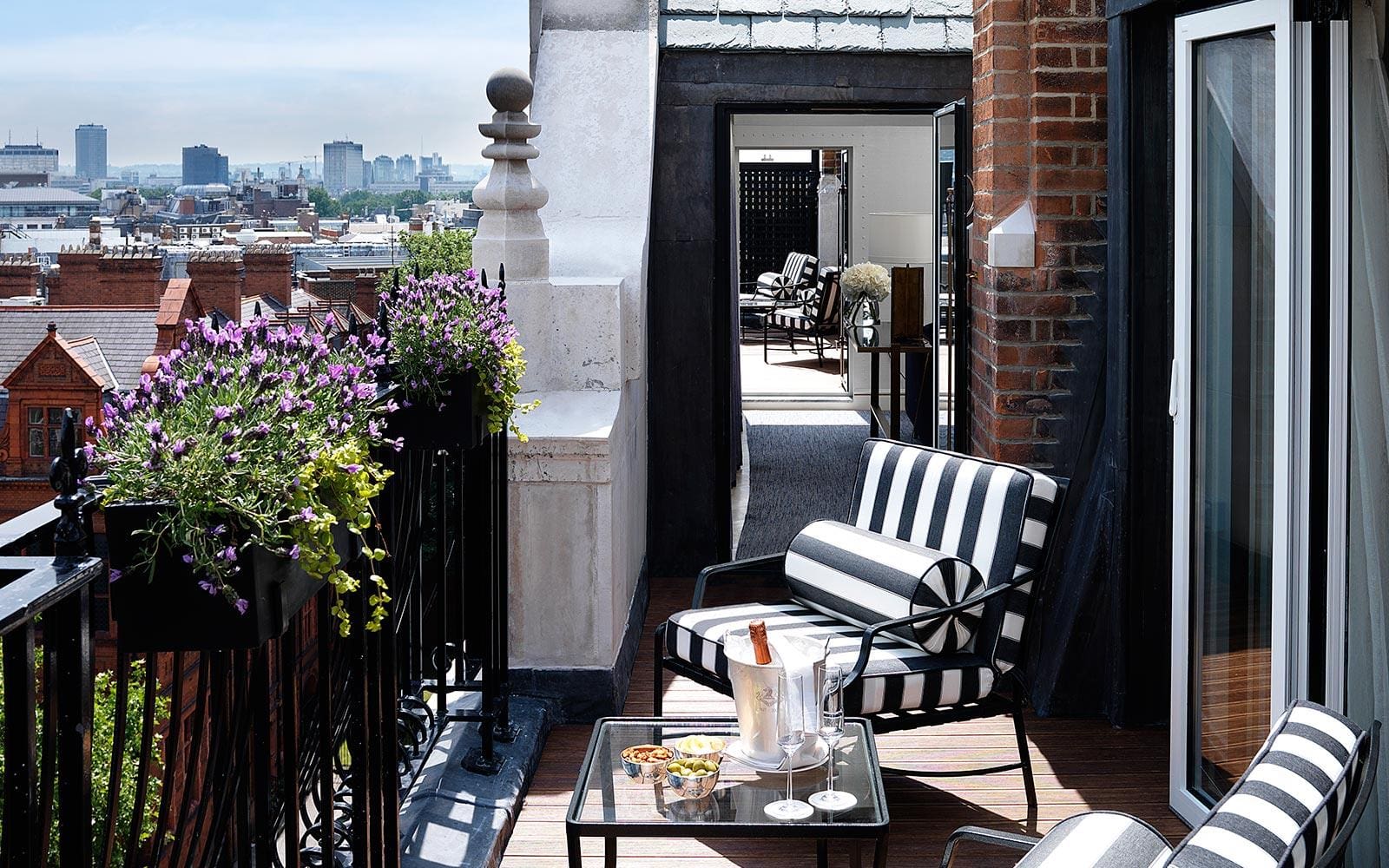 Gwyneth Paltrow loved the Connaught's apartment so much that she commissioned the same lacquered dressing table for her own home. Designed by the late David Collins, the suite is a serene space in blue and white. Entering through a set of beautifully carved doors, you will find a long hallway leading to the living room, with its high ceilings and marble fireplace. Both bedrooms are filled with natural light and dotted with original artwork, and the wrap-around balcony offers a bird's-eye view of Mayfair's Carlos Place.
9. The Penthouse at 45 Park Lane: £10,000, 170m² £58.82 per m²
Measured by the square meter, the price of the first suite at 45 Park Lane actually trumps that of its sister hotel The Dorchester, whose Harlequin Penthouse missed this list by one spot. The ten thousand dollar per night Penthouse offers guests the entire top floor of the hotel, accessible by private elevator, where they are greeted by 360 degree panoramic views of Hyde Park and its surroundings. A personal terrace surrounds 170 m² of Art Deco design, which incorporates soft fabrics, sensual curves and mirrored surfaces.
8. Royal Suite by Gucci at the Savoy: £15,875, 265m² £59.90 per m²
Did you know that Guccio Gucci began his career as a porter at The Savoy, an experience that inspired him to launch his eponymous luxury leather goods business? To celebrate 100 years of Gucci, the fashion house has partnered with the hotel to equip its Royal Suite – an Edwardian fancy adorned with marble, woodwork, moldings and chandeliers. The result is breathtaking and expensive in equal parts. For nearly 16,000 guests, guests have access to pieces from the Gucci Décor collection, art and antiques curated by Christie's, stunning views of the River Thames, a majestic four-poster bed, a marble bathroom and a sumptuous dressing room with cedar wardrobes.
Visit thesavoylondon.com
7. Bulgari Suite I at the Bulgari Hotel: £16,000, 264 m² £60.60 per m²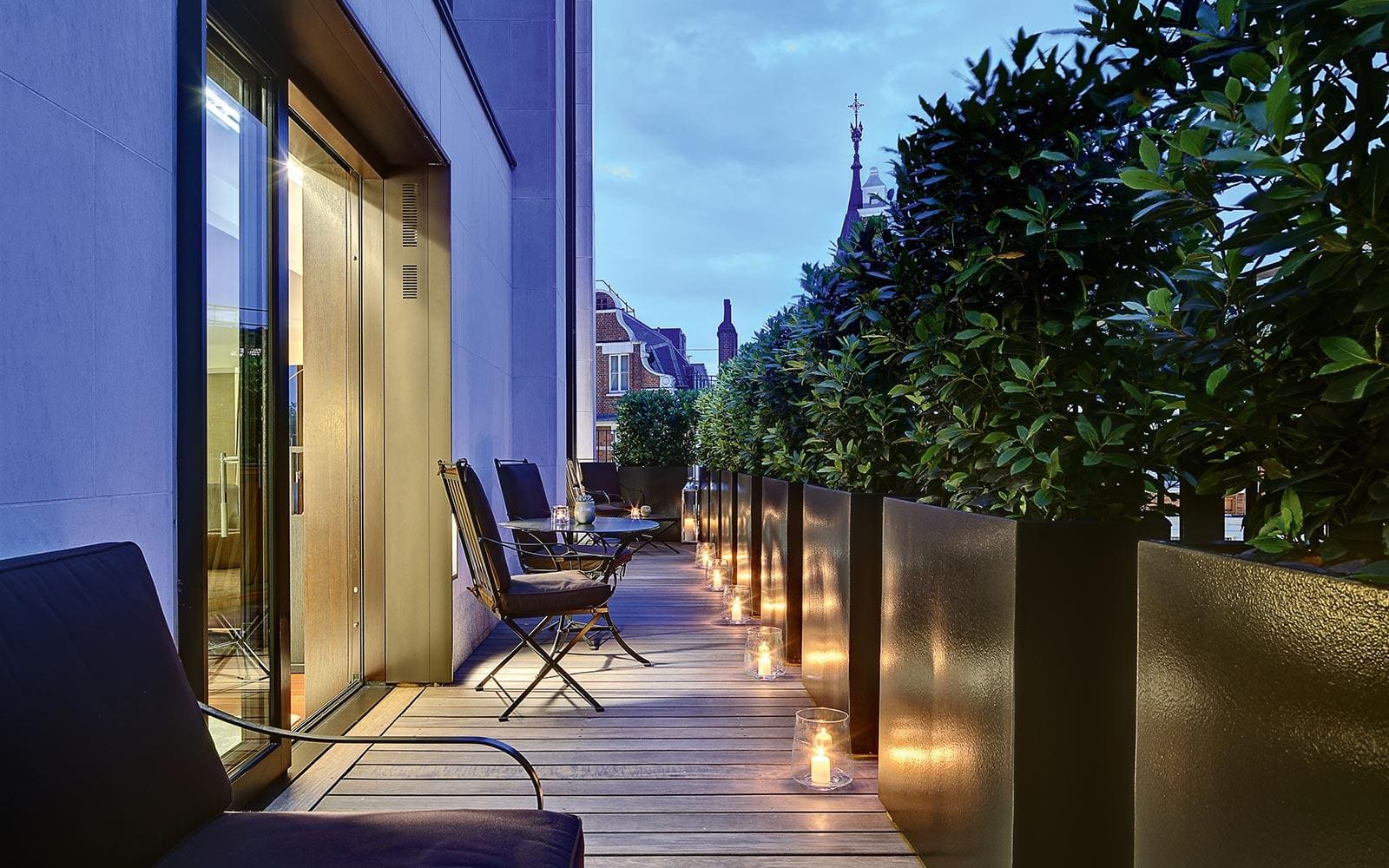 The Bulgari suites all offer king-size beds, combined steam and shower rooms, and museum-quality furnishings. The priciest is the Bulgari Suite I, which includes an oversized living room with an open fireplace, an adjoining dining room that seats eight, and a bespoke Bulgari bar. In the Marquina marble bathroom you will find a free-standing bathtub and an onyx marble rain shower. Meanwhile, the views over Knightsbridge and Hyde Park from the terrace are unparalleled.
6. Royal Suite at Claridge's: £14,000, 223m² £62.78 per m²
The Claridge's Royal Suite is kind of old-school, in your face luxury, and priced to match. Royal and historic motifs abound throughout, from design elements reflecting the coronation of Queen Elizabeth II, to an original Gilbert and Sullivan grand piano in the drawing room, and hand-painted national flowers by Gournay craftsmen lining the room to eat. Add to that 24-hour butler service and it's no surprise that Claridge's best accommodations are among the priciest in London.
5. The Kipling Suite at Brown's Hotel: £6,500, 90m² £72.22 per m²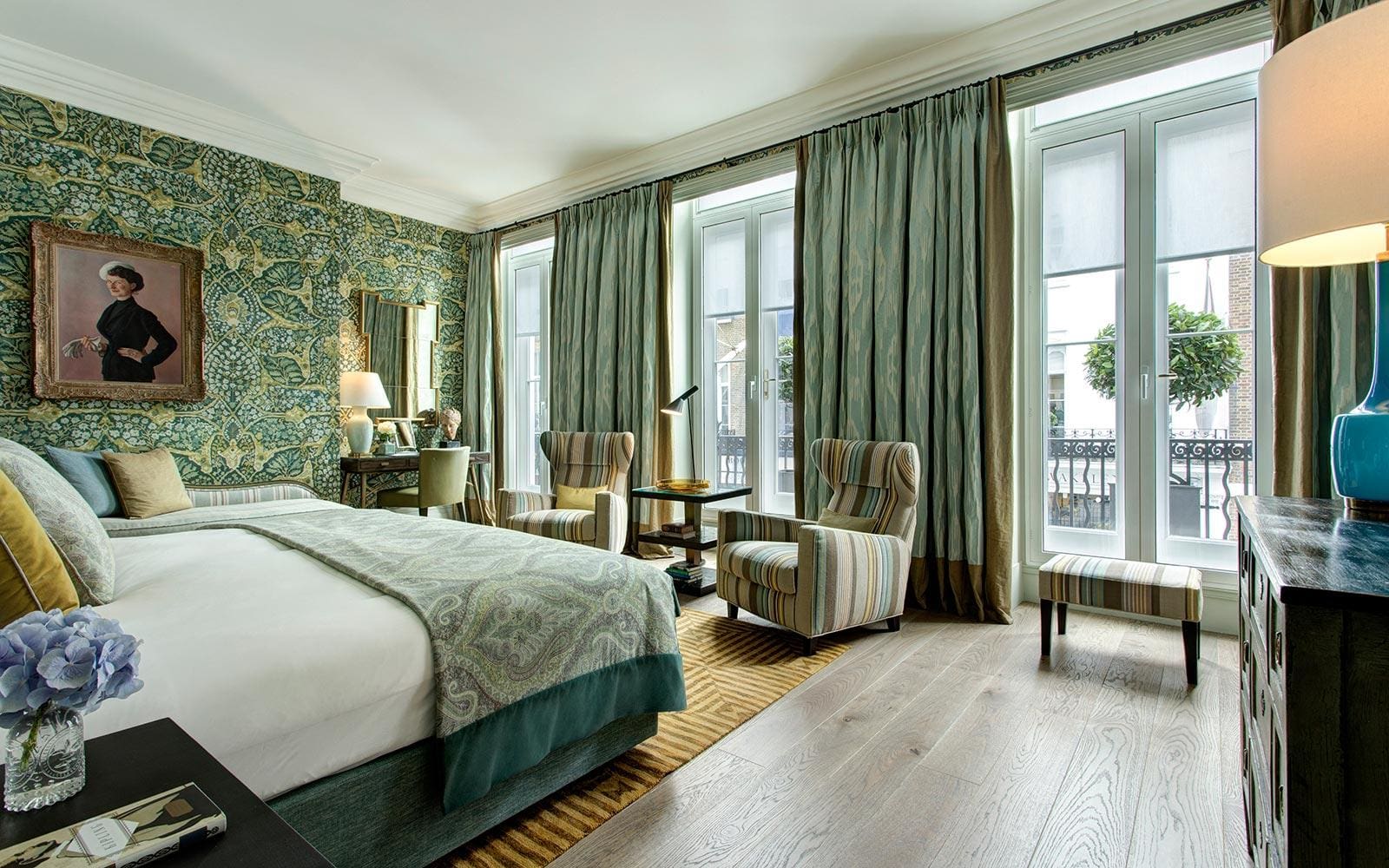 Brown's Hotel, established in 1837, is considered one of London's oldest, but it's anything but stuffy. Its striking design is the work of Olga Polizzi, who also brought a coveted collection of contemporary art to complement the original architecture. The Kipling Suite, named after Rudyard Kipling, includes various nods to the Jungle Book author, from a monkey statue to hand-painted Lewis & Wood floral wallpaper. The grand entrance hall gives way to the living room, next to which you will find the beautifully appointed bedroom, and the Italian Arabescato marble bathroom is also quite special.
4. Crescent Pavilion Penthouse at The Berkeley: £16,000, 220m² £72.72 per m²
For a hotel that's been a London institution for over a century, the Crescent Pavilion Penthouse is breathtakingly modern thanks to a complete overhaul by interior designer André Fu. Housed in a glass pavilion with sliding doors for an immersive indoor-outdoor experience, the suite features two living rooms, a bar, and an eight-person dining area in earthy sage and stone tones with bronze accents, d silver and gold. The terrace is wrap-around, meaning guests can choose between views of Belgravia or Hyde Park.
3. The Royal Suite at Mandarin Oriental Hyde Park: price on request, 242 m²£74.38 per m²
The nightly rate Mandarin Oriental's Royal Suite is disclosed upon request, however, The telegraph fetched it at £18,000. Based on this assumption, the suite is among the most expensive in the capital. The three-bed space, which also features a ten-person kitchen and dining area, is filled with luxurious touches such as Maya Romanoff wallpaper, a bespoke rock crystal chandelier and a fireplace. original restored. The master bedroom has a dressing table framed by Lalique crystal light fixtures and adjoins a bathroom with hammam. The suite also benefits from private butler service.
2. The Royal Suite at the Goring: £8,500, 111m² £76.57 per m²
The Goring is the only hotel in the world to hold a Royal Warrant granted by the Queen. Kate Middleton stayed here the day before her wedding to Prince William, and the five-star establishment was a favorite of the Queen Mother. These royal connotations are embodied in the Royal Suite, which includes a living room, a dining room, two bedrooms and a bathroom. The devil is in the details with touches such as Georgian glassware, regal artifacts ranging from handwritten letters to military insignia, and green silk wallcovering identical to that used in Titanic's dining room.
1. Manor House Suite at Rosewood London: £20,000, 208m² £96.15 per m²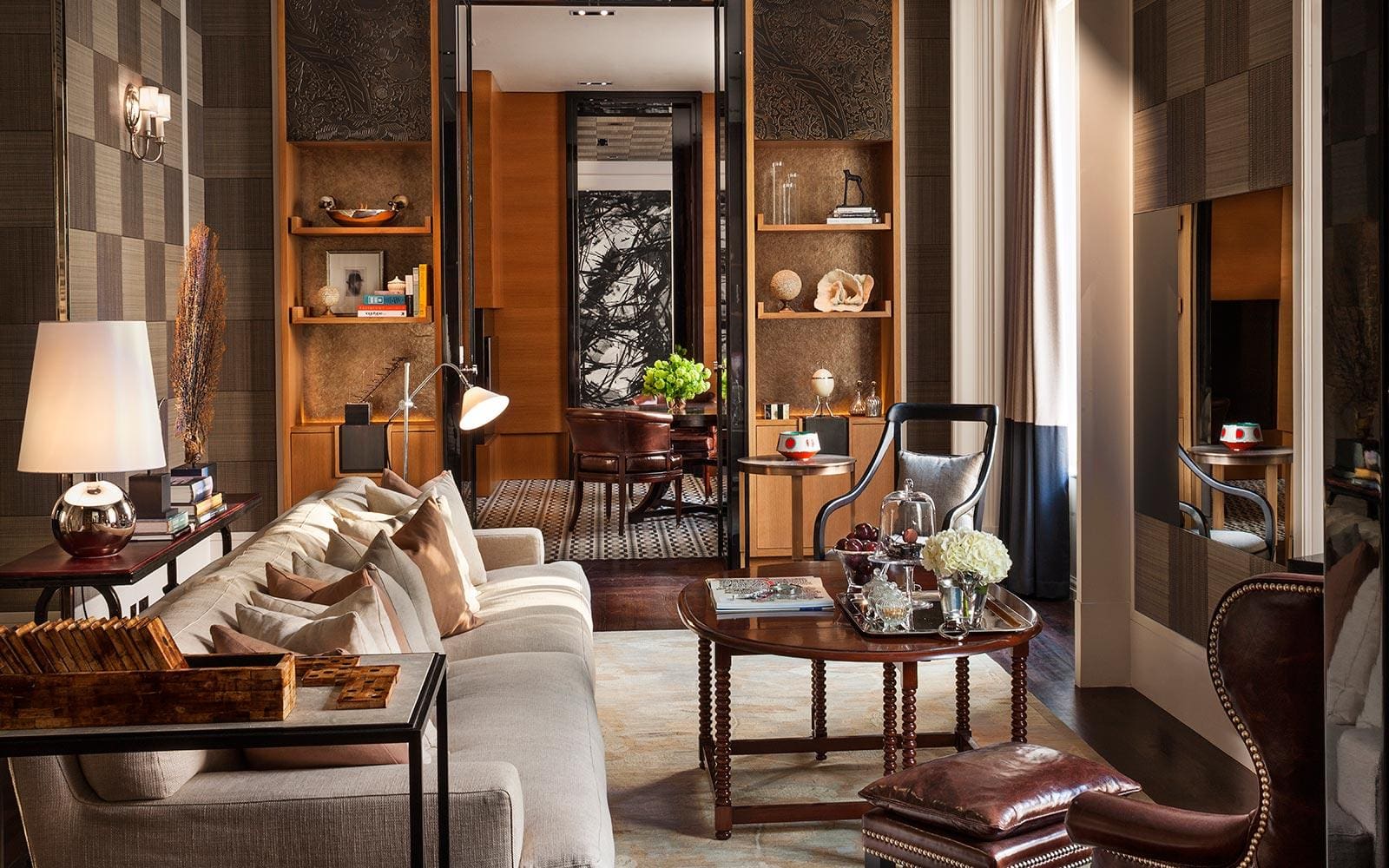 Rosewood London on High Holborn is the most expensive hotel room in London. The restored Edwardian mansion is packed with architectural detail, and the Manor House suite is the crown jewel – it's a veritable treasure trove of curios including curios, books and carvings. The bathroom is remarkable, with a freestanding marble bathtub as the focal point of the lacquered space. If you need more rooms, the Manor House Suite can be connected with six more rooms to become the Manor House Wing – a space with its own postcode!
Read more: The best five-star hotels in London