Looking for exciting new hotel experiences in KL? We have news for you: more than 3,000 hotel suites and rooms are expected to open in KL hotels in 2022, according to the latest Kuala Lumpur Hotel Market Insights and Outlook 2022 report from the global joint venture partner of CBRE|WTW, CBRE Asia Pacific.
Over the past two years, the Covid-19 crisis has created a crippling impact on the global hospitality industry. As healthcare workers and public health officials struggled to curb the spread of the deadly virus, hotels, resorts, entertainment centers, casinos, restaurants and sports venues were forced to suspend their operations, a move that is in line with the government's attempt to mitigate the propagated.
As a result, these companies have had to pivot quickly, lay off employees, drastically cut operating costs and embrace the digital sphere, while the group has been given the green light to resume business as usual.
During the Movement Control Order (MCO) in 2020, the industry lost around RM300 million every two weeks. In 2021, the Malaysian Hotel Association (MAH) said the industry had lost over RM10 billion in revenue.
At the height of the pandemic, at least 120 hotels are closing – temporarily or permanently – due to significant financial losses.
However, things are starting to look up. Inbound travel demand is poised to return to pre-pandemic levels and the country is easing its travel requirements. With these recent developments, the hospitality and tourism industry will be on the road to recovery in no time.
Where will the new hotel suites be in KL?
So where will these new hotel suites in KL pop up? Maybe some of your favorite retreats are on the list of new offerings.
The upscale Park Hyatt Kuala Lumpur hotel adds 232 rooms to Merdeka 118, the world's third-tallest skyscraper and the tallest in Southeast Asia.
The former MAS headquarters on Jalan Sultan Ismail, Conrad Kuala Lumpur is set to debut with 544 rooms in the Golden Triangle area.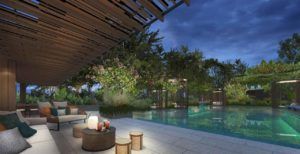 With a biophilic concept, the city's latest flagship, the Parkroyal Collection Kuala Lumpur will have a grand total of 535 rooms.
At the Kempinski Hotel Kuala Lumpur at 8 Conlay, the five-star luxury hotel offers 160 rooms, as well as an exciting dining experience: the hotel's first-ever durian lounge.
At Amari Kuala Lumpur, 252 rooms will be available for your staycation plans, and finally, at Fairmont Kuala Lumpur, 690 rooms will be at your disposal.
Other plans for the local hospitality industry
Between 2023 and 2025, an additional 1,260 new hotel rooms are expected to open, including the 471-room Kimpton Kuala Lumpur @ The Tun Razak Exchange, the 226-room So Sofitel Kuala Lumpur Hotel & Residence, the 213-room Jumeirah Kuala bedrooms. Lumpur Hotel & Residences and the 350-room Edition Kuala Lumpur.
Featured image credit: The Kempinski Hotel Kuala Lumpur; Hero image credit: Park Hyatt Kuala Lumpur